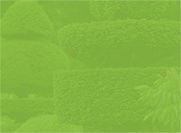 CONTACT US
04 92 28 19 20
SOIL MAINTENANCE
Caring for the soil is an important step of any lawn and garden maintenance. Your soil is full of nutrients and microorganisms. Unfortunately, during heavy rain, or simply because of existing plants draining these resources, the soil can run out of nutrients and become less and less fertile. To restore the soil's natural strength, it may be necessary to scarify the lawn, fertilize it or add compost.
ALH JARDINS highly recommend the use of mulch. Mulching will enhance your flowerbeds and clumps and offers many advantages:
It regulates soil temperature

It slows the development of weeds

It adds organic matter

It reduces the need for watering

It promotes the soil's biological activity

It is a promising and sustainable solution to preserve your soil
Proper soil care is a very important step that should not be neglected. It is essential for the growth of your plantations in the best conditions; avoid potential diseases and other natural nuisances.
NOUS CONTACTER
NOTRE ENGAGEMENT
ALH-JARDINS s'engage à vos côtés afin de fournir une prestation sur mesure pour entretenir vos haies et vos arbustes tout au long de l'année.
NOUS CONTACTER
I greatly appreciated the service provided by ALH JARDINS, the quality of work performed is faultless and the staff demonstrated a high level of professionalism.
ALH JARDINS have been working for several years in my villa in Cannes. Communication is always easy and the quality is always there.
I am the Manager of a domain comprising several villas around Cannes and I was particularly pleased with ALH JARDINS. They worked in a very professional manner on several plots to revitalize the green spaces!